BOOST INDOOR AIR QUALITY WITH AIR FILTERS IN YOUR LEXINGTON HOME
---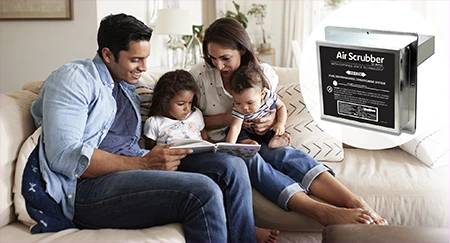 OUR INDOOR AIR QUALITY EXPERTS ARE A BREATH OF FRESH AIR
---
OK. Are you ready to hear something shocking? According to the U.S. Environmental Protection Agency, your indoor air pollution levels can be two to five times higher than outdoor air. Two to five times! Even more alarming is that in some cases, indoor air can be 100 times more polluted than the air outside! Yikes!
After reading that, you might be asking: How can this be true? Well, here's the truth: There are hundreds of contaminants circulating through your home on a daily basis. These pollutants make their way through your ventilation system and get dispersed into your home. Things such as cleaning agents, candles, air fresheners, smoke, bacteria, VOCs, pet dander, and kitchen fumes are just some of the culprits that float through your indoor space.
But don't panic. There are ways to clean up this indoor mess! Your team of indoor air quality Lexington experts at Comfort Heating & Air offers a variety of solutions to help eliminate those pollutants and freshen up your indoor air.
HOW TO IMPROVE YOUR INDOOR AIR QUALITY—INVEST IN A QUALITY SYSTEM!
---
Are you ready to boost your indoor air quality and help your family breathe better? Do you want to kick allergies and asthma to the curb? Let us help! At Comfort Heating & Air, our indoor air quality experts can install of variety of quality products to address different needs within your home. We've listed our most common offerings below.
HIGH-QUALITY AIR FILTERS IN LEXINGTON, KY
---
There is no arguing this fact: It is critical to use a quality air filter for your home. Decent air filters not only improve your air quality, but they will help your system run more efficiently all year long. Clean air filters also prevent your system from working overtime. As you may know, dirty filters only make your system work harder and can lead to the need for repairs while also boosting energy bills. Our air filter experts will help you determine the right air filter for your system. Whatever filtration level your home requires, we can install the proper fit and type. To keep your system running at its best, we recommend changing air filters once every three months.
HUMIDIFIERS
---
Dry air is another culprit that can cause problems inside your Lexington home. Installing a top-of-the-line humidifier, such as an Aprilaire, offers many benefits to your family's health, as well as your home's protection. Benefits of a whole-home humidifier include eliminating viruses and contaminants, protecting wood furniture and hardwood floors, increasing comfort and energy efficiency, helping lower heating/cooling costs, and offering peace of mind.
We currently offer the following Aprilaire humidifiers:
Aprilaire® Power Humidifier 700A
Aprilaire® Steam Humidifier
For more information on either of these models, feel free to call Comfort Air for more information. We offer 7-day a week service and are happy to schedule an appointment at your convenience. Call today at 859-300-3785 .
UV LIGHT SYSTEMS
---
We also offer UV light systems to zap mold, viruses, bacteria, and other bad guys that live inside your indoor air. The technology in UV lights is safe and helps remove contaminants in the air using a UV light that destroys the DNA in the viruses and bacteria. UV lights can also help reduce odors as they clean and freshen your indoor air.
BETTER AIR EQUALS BETTER HEALTH, TOO!
---
Remember, while some indoor pollutants are just annoying, there are some that can cause respiratory problems and make you sick. When you take charge of your indoor air quality, you will help:
Reduce allergies
Improve skin ailments & dryness
Reduce asthma flare ups
Boost indoor comfort
Lengthen the lifespan of your HVAC system
Breathe easier
Improve indoor airflow
Reduce dry eyes & scratchy throats
IS YOUR INDOOR AIR QUALITY AT RISK?
---
Before you invest in an indoor air quality system, you might be wondering if your indoor air is compromised. Here are 10 symptoms that point to yes:
Increased allergies
Breathing problems
Poor sleep
Dizziness
Fatigue
Regular headaches
Dry skin and scratchy throat
Itchy eyes and nose
Excessive sneezing
Coughing
GET A FREE INDOOR AIR QUALITY EVALUATION!
---
Still not certain if your home truly needs an upgrade to an indoor air quality system? No worries. That's why we're here! Our team of licensed techs is highly experienced in evaluating homes to determine the status of their indoor air. Whether your home is best suited for a UV system, upgraded air filters or even a whole home humidifier, we'll be able to recommend the very best option. Call us today and we'd be happy to schedule a free indoor air quality evaluation in your Lexington home.