HEATING REPAIR, INSTALLATION & MORE IN LEXINGTON
---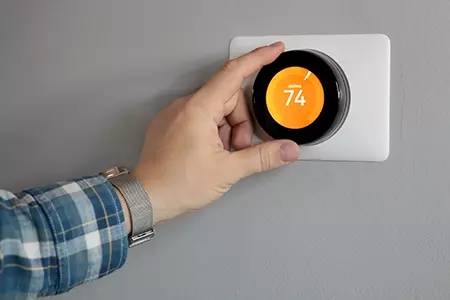 WE'LL KEEP YOU COZY & WARM
---
When the bitter days of winter come rushing into Lexington, we want nothing more than to retreat inside our homes for cozy warmth. But as homeowners, we know one thing — nothing is foolproof — including our furnaces and heating systems.
But fear not! If your heating system experiences some hiccups in the middle of winter, you can take solace knowing there's a local 5-star HVAC company who can rescue you and your home from chilly days — Comfort Heating & Air!
When you need professional heating installation, heating repair or furnace installation in your Lexington home, our reliable team of professionals at Comfort Heating & Air is just a phone call away.
WE OFFER THE FOLLOWING:
---
HEATING REPAIRS
---
In most cases, the solution to a heating issue can be fixed with simple heating repairs by one of our certified technicians. But how do you know if a heating repair in your Lexington home is really needed? Here are some signs that a quick fix might be in your near future:
Diminished airflow
Higher than normal energy bills
A system that spurts out cool air
Extra dust accumulation in your home
Hot and cold spots throughout the house
Odd smells
Irregular cycling
Noisy system operation
Uneven air temperature
Do one or more of these ring a bell? If so, give our team a call. It's quite possible you're in need of some good old heating repair. Remember, a heating repair today can prevent a much bigger problem from occurring down the road. When in doubt, call the Comfort Man!
HEATING REPLACEMENTS & HEATING INSTALLATION IN LEXINGTON
---
If your furnace or heating system is not giving you the cozy love you deserve, you could need more than just a heating repair. You may be in the market for a full heating replacement and new heating installation in your Lexington home. While we know a new system can be an investment and might feel scary, the process of heating replacement with our team should never scare you! When you rely on the experts at Comfort Heating & Air, we handle everything easily, so you're assured:
Experienced techs
Fair pricing
Seamless installation
Total clean up and tidiness
Friendly customer service
Peace of mind
IS IT TIME TO REPLACE YOUR HEATING SYSTEM?
---
If you're like many homeowners, you might not know for certain when the time is right for a heating installation and replacement in your home. Fortunately, if you're in that "how do I know if I need a replacement" phase, there are quite a few tell-tale signs.
If the following things sound familiar or continue to happen, your system is probably in need of replacement:
Your system is over 10 years old.
You are constantly calling for repairs.
You have noticed low heat levels.
There are cold and hot spots throughout your home.
Your energy bills are twice the amount.
Your system is constantly running and not supplying warmth.
So, how many boxes have you checked? If it's more than two, call us. We will evaluate your heating unit and provide you with our professional opinion. If it comes down to it, we offer furnace installation in Lexington, heating repairs and even free estimates on a new heating unit.
HEATING MAINTENANCE
---
Don't forget about regular heating maintenance once you've had a new heating system installed! Regular maintenance for your heating system offers a multitude of benefits, and we couldn't recommend it more. Not only will Comfort Heating & Air's professional HVAC maintenance services bring you 100% peace of mind, but when you call our team of licensed techs to service your home, you'll gain:
Overall savings
Two checkups per year (one in spring & one in fall)
A longer lasting system
Lower energy bills
A more comfortable home
Improved energy efficiency
...And so much more!
WE OFFER TOP NOTCH MAINTENANCE PLANS FOR YOUR HOME
---
To keep your HVAC system running as efficiently as possible, the team at Comfort Heating & Air offers comprehensive maintenance plans for both heating (and cooling) to keep your home cozy, cool and safe. To learn more about our HVAC maintenance, visit our HVAC maintenance page.
SCHEDULE HEATING INSTALLATION IN LEXINGTON TODAY!
---
When the day comes for a new furnace or heating system, we'll be here for you. Our professional installers are trained and certified and can talk you through the entire heating or furnace installation process. Plus, we'll answer all of your questions so you have 100% peace of mind. With over 20 years of experience, Comfort Heating & Air is your go-to team for heating, cooling, and indoor air quality. We service all areas throughout Lexington and nearby cities. And we look forward to visiting your home soon, too!