PROFESSIONAL DUCTLESS AIR CONDITIONER AND HEATING SERVICES IN YOUR LEXINGTON HOME
---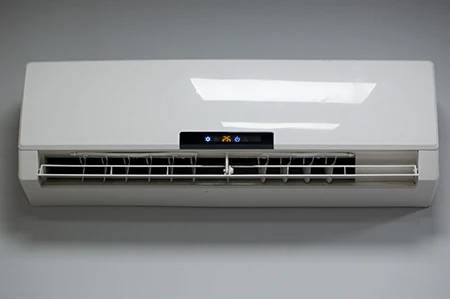 CUSTOMIZE YOUR INDOOR COMFORT TODAY!
---
You've probably heard the phrase, "good things come in small packages." Are we right? Well, when it comes to the super-efficient ductless mini-split, this saying couldn't be more accurate. In fact, for homeowners who don't have traditional ductwork in their home, a ductless heating or cooling system can be a real solution to all their problems. Curious? Read on to learn more!
WHAT IS A DUCTLESS HEATING AND COOLING SYSTEM?
---
First things first. Let's explain these amazing little systems and how they work. Ductless mini-splits are a popular way of both cooling—and heating—your home when you lack ductwork. They consist of two parts, an outdoor compressor, and an indoor air handler. The indoor handler is what you see inside and is typically mounted on the wall or ceiling. Their big advantage is that they can be independently placed in only the rooms you want to heat or cool, so you have total control over the temperature in different zones of your house. How cool is that?
Additional benefits of a ductless system include:
Easy installation
Super quiet operation
Customized comfort
Overall cost savings
Amazing efficiency
Improved indoor air quality
Lower energy bills
Small & discreet
Zone controlled & flexible
Cheaper than installing new ductwork
IS A DUCTLESS-MINI SPLIT RIGHT FOR MY HOME?
---
Homeowners who are not familiar with ductless systems, often have many questions. The biggest one being: Is a ductless system right for my home? Great question!
When customers call us with inquiries about the ductless mini-split, we often ask them a series of questions. For instance, do you have an older home where you only use a few rooms? Or do you work out of garage office or have a workshop tucked away in your basement? If so, then you may want to only heat or cool the rooms you use consistently, so you're not wasting money and energy.
If this sounds about right, then the ductless system is your answer. You can easily conquer temperature challenges with the installation of a highly efficient ductless mini-split in the rooms you choose.
Even better, there are a variety of ductless systems, too. From ductless heat pumps to simple ductless air conditioners, you're in charge of the system you need and the home comfort you choose.
USE THEM IN THESE ROOMS
---
Ductless systems are especially convenient for areas such as:
Offices
Sunrooms
Workout centers
Classrooms
Older homes
Restaurants
Sewing rooms
Garage workshops
Attic nooks
Sheds
Home renovations
...And so much more!
PROFESSIONAL SERVICES FOR ALL YOUR DUCTLESS NEEDS
---
At Comfort Heating & Air, our technicians are certified and skilled to service all types of ductless systems. We offer all the following:
Ductless replacements
Ductless repairs
Ductless installations
Ductless system maintenance
PLUS... WE ARE A LEXINGTON MITSUBISHI DIAMOND CONTRACTOR
---
Comfort Heating & Air is proud to be a Mitsubishi Diamond Contractor. This recognition is the highest level of accreditation from Mitsubishi Electric Cooling & Heating, and we are proud to be the highest-rated and only elite pro dealer in the central Kentucky area.
What does this mean for you? Well, when you hire a Diamond Contractor, you'll always receive professional, reliable installation and complete maintenance of your ductless system. As a leader in our field, we are also constantly working with Mitsubishi to stay current on all new products and training. So, you always get the very best quality and service.
LET'S RECAP WHY YOU SHOULD GO DUCTLESS
---
As we stated earlier, there are many benefits to going ductless in your home. Let's recap the top five reasons.
1. ULTIMATE CONTROL
---
You control each unit separately. This means you can decide which zones you keep cool (or warm) and which areas you don't.
2. NO DUCTWORK
---
With zero ductwork, your installation is much less complicated than installing new ducts since no walls or ceilings need to be demolished. It's also cheaper!
3. QUIET OPERATION
---
These little guys are super quiet and highly efficient. You rarely hear noise, unlike the cycling that can be associated with a central air system.
4. DOUBLE DUTY
---
Ductless mini- splits can pull double duty. They can both cool and heat your home, so you have the power to control your temperature zones during every season.
5. COMPACT IN SIZE
---
These small guys can easily be mounted on ceilings or walls. So, you have more options as to where you'd like to place them. Our technicians will let you know the perfect place to install the unit, so you get the highest efficiency possible.
CALL COMFORT HEATING & AIR FOR DUCTLESS INSTALLATION IN YOUR LEXINGTON HOME!
---
If the time has come for you to install a new ductless mini-split in your Lexington area home, call our team today. We offer free estimates, financing options and all-around great customer service seven days a week. We look forward to working with you soon.