QUALITY AC REPAIR & OTHER SERVICES IN LEXINGTON & NEARBY
---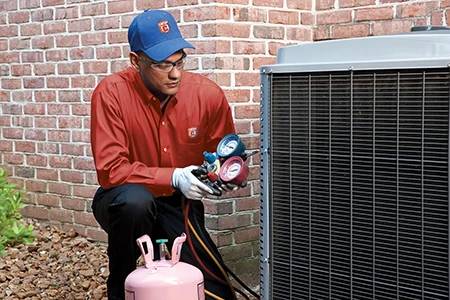 WE'LL HELP YOU KEEP A COOL HEAD
---
Summers in Lexington can be very warm and humid. So, when the time comes for chilled relief in your Lexington home, you need a reliable HVAC provider you can count on for quality service—seven days a week. That's where Comfort Heating & Air comes in! For over two decades, our skilled and licensed technicians have been providing area residents with superior air conditioning services—while keeping their homes cool 24/7.
OUR AIR CONDITIONING SERVICES ARE TOTALLY CHILL
---
In addition to our qualified technicians and amazing customer service team, Comfort Heating & Air has years of expertise in all types of cooling services. Call on us for any of the following air conditioning services:
AC REPAIR
---
Does something with your AC system seem off? Perhaps your thermostat isn't registering properly or maybe there's water pooling under your system? Don't take chances with any of these problems. Whatever the issue may be, we are licensed and skilled to handle all types of AC repairs!
From the smallest fix to major repairs, we'll always arrive at your home on time to solve any issue quickly and efficiently.
You may need AC repair if your system is:
Dripping or leaking water
Making strange noises
Cycling off and on constantly
Blowing warm air, not cool
Not allowing thermostat to calibrate
Experiencing fan problems
AC INSTALLATION & REPLACEMENT
---
Nothing lasts forever. And unfortunately for homeowners, this includes your cooling system, too. Even the very best systems have an expiration date. So, when the day comes for an AC replacement in your Lexington area home, our professionals will be there to perform flawless AC installation quickly and on a budget that's fair. But how can you be sure your system needs to be replaced? Call us! We will do a full evaluation of your system, find the problem, and let you know if a repair will do, or if a full-on replacement might be better. Wondering where your system stands?
Here are a few signs that point to the need for an AC replacement:
Your system is over 10 years old.
The temperature in your home is inconsistent.
You've noticed higher than normal energy bills.
You're constantly calling for repairs.
AC MAINTENANCE
---
If you haven't kept up with your AC maintenance, then it's almost certain you'll be calling for repairs or even an AC replacement sooner than later. Regular maintenance for your cooling (and heating) units is the key to a seamlessly functioning system and can easily increase its longevity. Remember, just as your car requires a 5,000-mile checkup, your AC unit also needs regular TLC to keep your home 100% comfortable and safe.
The benefits of AC maintenance include:
Fewer repairs
Cost-effective operation
Extended lifespan of the system
Boosting & improving indoor air quality
Better peace of mind
Improved energy efficiency
...And much more!
WANT TO BOOST YOUR SYSTEM'S ENERGY EFFICIENCY?
---
Wondering how to get the very best out of your AC system? Well, in addition to scheduling annual maintenance, you may want to invest in a brand-new thermostat. There are a wide variety of digital and smart thermostats on the market these days, and they are all designed to help homeowners save money, boost their energy efficiency, and gain greater control over their indoor comfort. From digital and smart thermostats to touch screen and more, upgrading to a new model can only benefit your wallet!
WE ARE A NEST PRO ELITE INSTALL PARTNER
---
As a Nest Pro Elite install partner, we are also proud to offer the Nest Learning Thermostat®. The Nest is simply an amazing piece of technology that learns your heating and cooling patterns and programs your home comfort just as you like it! It's so smart that it can save you 10% to 12% on heating costs and up to 15% on cooling costs. Plus. It's super easy to use. Connect Nest to your home's Wi-Fi and control temperatures using your own smartphone—whenever you're away from home!
FINANCING IS AVAILABLE
---
When your cooling system requires more than just a professional repair and you're in need of new AC installation, our team at Comfort Heating & Air always has your back. In addition to our expert AC replacement and installation, we offer financing options to help make the purchasing of a new system affordable. To see if you qualify or to learn more about our financing, visit our financing page here.
WE SERVICE LEXINGTON & NEARBY CITIES!
---
Call the Comfort Man today to schedule your air conditioning services. We service all the following areas: Lexington, Paris, Georgetown, Nicholasville, Richmond, Versailles, Winchester, London, Corbin, and the surrounding areas. We are open and ready to help with all your cooling and heating needs seven days a week. Call today: 859-300-3785 .