HVAC MAINTENANCE IN LEXINGTON, KY
---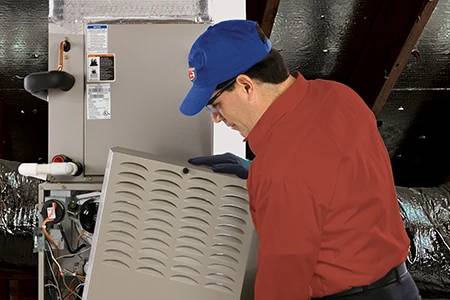 RELY ON THE TEAM THAT CARES!
---
You wouldn't skip your annual dentist appointment or ignore your car's 5,000 mileage service tune-up, would you? Of course, not. So, then, why do so many homeowners ignore annual preventative maintenance for their HVAC? We aren't sure! But we do know one thing for certain—regular HVAC maintenance in your Lexington home is one of the smartest decisions you can make.
BENEFITS OF PREVENTATIVE HVAC MAINTENANCE
---
Take it from the experts at Comfort Heating & Air. Regular maintenance for your heating or cooling system offers a multitude of benefits. Not only will our professional HVAC services bring you 100% peace of mind, but when you call our team of licensed techs to service your home, you'll gain the following:
Overall savings
Two checkups per year (one in spring & one in fall)
A longer lasting system
Lower energy bills
A more comfortable home
Improved energy efficiency
...And so much more!
WE OFFER TOP-NOTCH HVAC MAINTENANCE PLANS FOR YOUR HOME
---
To keep your HVAC system running as efficiently as possible, the team at Comfort Heating & Air offers comprehensive maintenance plans to keep your home cozy, cool, and safe. Our preventative maintenance HVAC checklist includes a complete list of checks and balances. When we service your home's HVAC, we will:
Check manifold gas pressure
Check the pilot safety
Check blower alignment
Check and oil blower & motor
Clean and adjust the pilot
Check/adjust the main burner
Measure air flow & static pressure
Clean condensate drains
Inspect heat exchanger
Check for gas/combustion leaks
Check draft
Check temperature settings
Check humidity setting
Clean or replace filters
Check for duct leakage
Check amps and voltages
Check controls operation
Test limit switch
Inspect wiring and connections
Check thermostat
Check refrigerant charge
Check oil pump pressure
Tighten all electrical connections
Cycle check operations
TIPS & TRICKS FOR KEEPING YOUR HVAC RUNNING SMOOTHLY 24/7
---
While regular maintenance is the best way to ensure a functioning and reliable HVAC system, there are some do-it-yourself tips that you can do between checkups to help keep your cooling and heating unit healthy and help you save money. Curious? Try these:
Do these in the summer...
AC MAINTENANCE TIPS
---
Turn the thermostat up two to three degrees in the summer.
Use your air conditioning moderately.
Draw curtains and blinds during the day.
Invest in solar blocking shades.
Choose light-colored roof shingles if you're building a new home (these will reflect sunlight).
Be certain your attic is properly ventilated.
Run appliances such as the dishwasher and washer/dryer in the evening rather during the day.
Don't block vents with furniture.
Keep lamps, TVs, and other devices away from your wall-mounted thermostat. (Rising heat can cause your AC to over cool your house and increase your energy bills.
Try these tips in the winter...
HEATING SYSTEM & FURNACE MAINTENANCE TIPS
---
Place the thermostat on an inside wall, away from doors and windows.
Set the thermostat two to three degrees lower than normal in the wintertime. Each degree over 68 degrees can add 3% to the amount of energy needed to heat your home.
Set ceiling fans to run in a clockwise direction at low speed. This pushes warm air from the ceiling to the floor.
Turn the thermostat down when you are having gathers and during sleeping hours.
Invest in a smart thermostat. These devices learn your home patterns and will adjust your indoor temperature accordingly—which will save you money.
INSULATION
---
Make sure your home is properly insulated. This is the single most important step in conserving energy. Thermal insulation should be specified in terms of thermal resistance (R-values). R-30 (10″) is recommended for ceilings, and R-11 (3-1/2") for exterior walls and floors over unheated areas. In colder climates, consider additional insulation.
Infiltration of humid outside air is your heating and air conditioning system's worst enemy—it could account for 15% to 30% of air conditioning energy requirements. Find the places where air can sneak into the home and plug them with caulking, weather-stripping or plastic. Also, weather-strip and caulk around all entrance doors and windows.
Cut heat transfer through your windows by 40% to 50% with double-glazing (two panes of glass separated by a sealed air space) and low-e glass.
Use wood- or metal-frame storm windows even if single-glazed windows are high quality. The extra layer of glass and the layer of still air will cut heat transfer considerably.
Install storm doors at all entrances to your house.
Keep all windows and doors closed.
Remember that by increasing the glass area, you increase the amount of heat added in summer and lost in winter.
Make sure fireplaces have tight-fitting dampers, which can be closed when the fireplace is not in use. Invest in a humidifier to conserve energy in winter. The air in your home won't be as dry, so you stay comfortable at a lower temperature setting.
WHAT TO LOOK FOR WHEN SEARCHING "HVAC MAINTENANCE NEAR ME"
---
When you need HVAC maintenance in Lexington, we realize you have many selections to choose from. However, just like choosing the right doctor is critical for your health, deciding on the best HVAC company for your needs is also essential.
At Comfort Heating & Air, we've been around the block. With more than two decades of experience, we are highly experienced and well-skilled in all things heating, cooling and indoor air quality While we hope you'll choose "the Comfort Man" when you need preventative HVAC maintenance in your Lexington home, here is a list of 10 things, you should always consider when hiring a heating or cooling contractor:
Experienced & knowledgeable
Good reputation
Licensed & certified
Insured
Drug-tested employees
Flexible scheduling
Fair prices
Clean, friendly, and caring technicians
On-time technicians
Excellent reviews
CALL US FOR HVAC MAINTENANCE IN YOUR SERVICE AREA
---
Wondering if we're in your town? We proudly serve the following areas: Lexington, Nicholasville, Versailles, Paris, Georgetown, Richmond, London, Winchester, Corbin, and the surrounding areas! Call our team at 859-300-3785 to schedule your HVAC maintenance in the Lexington area today!